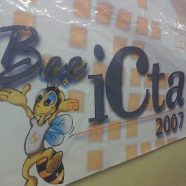 24 Mar

2007
Tags
Related Posts
Share This
Kompetisi Software Bee-ICTA 2007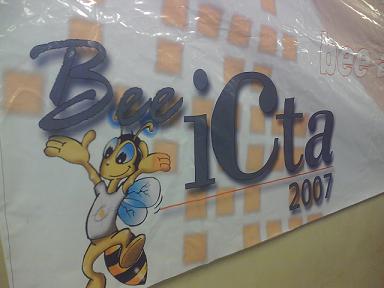 Bee-ICTA alias Binus Information and Communication Technology Application adalah ajang internal Universitas Bina Nusantara (Binus) untuk mencari bibit unggul pengembang aplikasi software dari mahasiswa-mahasiwanya. Namanya mirip dengan APICTA (Asia Pacific ICT Application)? Ya karena salah satu tujuannya juga untuk mempersiapkan diri mengikuti perlombaan APICTA baik tingkat nasional maupun internasional. Jujur saja, tidak banyak universitas di Indonesia (baik negeri atau swasta) yang menseriusi berbagai ajang kompetisi programming dan pengembangan aplikasi software seperti APICTA atau ACM Programming Contest. Padahal event-event semacam ini bisa dimanfaatkan untuk mengkader programmer-programmer muda kita dan sekaligus dapat menjadi image branding yang baik untuk Indonesia. Efek positif berikutnya adalah ke arah pengakuan komunitas internasional terhadap SDM-SDM IT Indonesia, otomatis ini merembet ke terbukanya dunia kerja internasional untuk SDM Indonesia.
Lab saya dulu di Jepang (Saitama University) juga cukup serius mempersiapkan mahasiswa-mahasiswa terutama yang masih di program bachelor dalam ACM Programming Contest. Para senior punya kewajiban membantu adik-adik kelas baik dalam aspek teknis (application design, code writing, development method, dsb) maupun non-teknis (mental, presentation technique, time schedulling, dsb).
Kebetulan hari ini, Sabtu 24 Maret 2007 saya diminta teman-teman di Binus untuk menjadi juri kompetisi software Bee-ICTA. Ada beberapa tahap penjurian sehingga akhirnya Sabtu ini terkumpul 12 produk untuk penjurian akhir (presentasi). 12 produk aplikasi software tersebut dibagi menjadi 2 kategori, yaitu:
Database and e-Application

Multimedia, Intelligence System and Networking Application
Secara umum saya pikir produk-produk yang masuk tahap penjurian akhir (presentasi) cukup baik. Dasar ide juga cukup menarik dan technical aspeknya banyak yang mencapai level yang cukup tinggi. Aspek yang masih perlu diasah adalah "sense" membaca kebutuhan (requirement) pasar yang riil dan mengembangkan produk berdasarkan kebutuhan itu. Well, saya pikir wajar mahasiswa punya sedikit kelemahan di aspek ini karena domain mahasiswa yang ada di lingkungan kampus. Kalau sudah mulai masuk wilayah industri, pasti dengan sendirinya akan matang. Gampangnya orientasi kebutuhan pasar akan utama, karena meskipun kita mengembangkan software dengan teknologi secanggih apapun, akan menyakitkan hati pengembang ketika produk tersebut tidak digemari pasar (tidak laku) 😉
Saya kebagian menjadi juri untuk kategori Multimedia, Intelligence System and Netwoking Application. Produk-produk yang muncul kalau saya kategorikan ada di tema-tema: multimedia learning, voice recognition, dan server administration tool. Aspek penilaiannya meliputi Functionality (40%), System (10%) dan General (50%). Merunut ke teori rekayasa perangkat lunak tentang kualitas software, metode penilaian ini termasuk penilaian terhadap produk (bukan proses). Aspek Functionality menilai dari segi Friendliness (kemudahan penggunaan aplikasi), Usability (tingkat pemenuhan kebutuhan dan solusi), User Interface (pemenuhan aturan 8 golden rules HCI). Aspek System menilai sejauh mana kemudahan pemeliharaan code dan kemungkinan pengembangan lebih lanjut (Maintenance). Aspek General menilai Originality, Visual Attractness (penampilan layar), Innovative (keunggulan dibanding produk lain) dan  Comprehensive (kemampuan menjawab pertanyaan juri).
Akhirnya, terpilih 3 pemenang untuk tiap kategori dan 1 juara umum yang berhak mendapatkan piala dari Binus untuk total skor tertinggi. Selamat saya ucapkan untuk teman-teman semua yang sudah mengikuti Bee-ICTA 2007 ini, great job untuk yang menjadi pemenang dan jangan patah semangat untuk yang belum menang.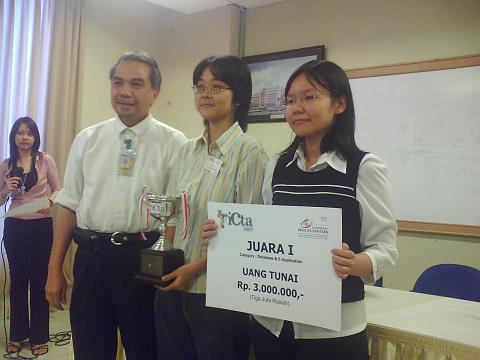 Sekali lagi ajang seperti ini menarik dilakukan untuk mencari bibit-bibit unggul programmer muda dari kalangan mahasiswa, dan jangan lupa otomatis akan meningkatkan image branding universitas beserta seluruh sivitas akademikanya. Jadi kampus lain jangan sampai kalah, ayo bikin juga !
Tulisan lain tentang acara Bee-ICTA 2007 ini: