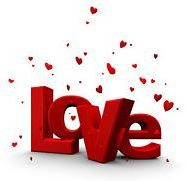 18 Nov

2008
Tags
Related Posts
Share This
Ketika Cinta Ini Membunuhmu …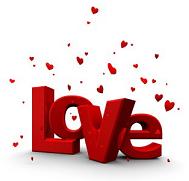 Mas Romi, saya seorang mahasiswa di Malang, saya mendapatkan penolakan cinta dari pujaan hati saya di kampus. Rasa ini membuat saya agak terseok-seok, dan akhirnya nilai mata kuliah saya jadi hancur lebur. Bantu saya keluar dari masalah ini mas. (Anwar, Malang)
Masalah klasik para pemuda sang pengejar cinta, dan para pemudi sang penunggu cinta 🙁
"Cinta ini membunuhku", itu bahasa D'Masiv 🙂
"Wahai kematian, datanglah cepat kemari, hisap dan dekap tubuhku yang penuh cinta ini", kalau yang ini kata William Shakespeare dalam Romeo and Juliet.
Kahlil Gibran mengungkapkan dalam syairnya, "Bila cinta memanggilmu, ikutlah dengannya meski jalan yang kalian tempuh terjal dan mendaki".
Kisah cinta datang dan pergi dari masa ke masa, menyuarakan hal yang sama dengan redaksi berbeda. Silih berganti dari Layla Majnun, Tristan und Isolde, Roro Mendut dan Pronocitro, sampai Romeo and Juliet. Cerita cinta selalu meggebu dan indah, meskipun ketika kita pandang jauh dari sisi lain, kadang buta, tidak nyata dan fatamorgana.
Ya benar, kita sering bingung dalam memaknai cinta. Lauren Slater dalam National Geographic edisi 2006 mengatakan, "Sulit untuk memisahkan pembicaraan antara cinta dan penyakit mental". Maria dalam Ayat-Ayat Cinta mengatakan dengan redaksi yang berbeda, "Cinta adalah siksaaan yang manis".
Apakah cinta, mencintai dan dicintai adalah salah? Jawabannya adalah tidak. Cinta itu indah, cinta itu semangat dan cinta itu adalah kebahagiaan. Bahkan mungkin kekuatan kita untuk mencintai adalah titik tertinggi dari hakekat cinta (halah) 🙂
Hanya permasalahan utama dari para pemuda dan pemudi yang kebetulan sedang jatuh, menjatuhi atau dijatuhi cinta adalah ada di dua hal: salah meletakkan posisi hati dan salah mendefinisikan cinta.
1. LETAKKAN POSISI HATI DENGAN BENAR
Cinta berhubungan dengan hati, itu pasti, karena di dalam hati ada unsur keindahan, semangat dan kebahagiaan, maka 3 hal ini ada kemungkinan besar berhubungan dengan cinta. Banyak dari kita yang meletakkan posisi kebersamaan dan penerimaan cinta sebagai titik tertinggi dari keindahan, semangat dan kebahagiaan. Karena itu kita gusar, sedih, dan sengsara ketika cinta kita tidak diterima oleh sang pujaan hati. Dan kita sangat menderita ketika kita tidak bisa memiliki kebersamaan dengan sang kekasih tercinta. Inilah titik sentral masalah cinta ala Layla – Qais, Roro Mendut – Pronocitro, maupun Romeo – Juliet.
Menempatkan posisi kebersamaan dan penerimaan bukan sebagai titik tertinggi dari cinta adalah faktor terpenting yang membuat cinta tidak akan bisa membunuh kita ;). Saya selalu menempatkan posisi keindahan, semangat dan kebahagiaan saya ketika saya bisa bermanfaat untuk orang lain, mencapai suatu prestasi, dan bisa melakukan hal yang tidak bisa dilakukan orang lain. Ketika banyak orang lain berlomba-lomba untuk mencintai orang lain, bahkan dengan cinta buta, saya berusaha berdjoeang untuk mencintai diri saya sendiri. Inilah cinta dengan logika.
Mencintai diri sendiri bukan berarti banyak tidur, banyak santai, atau banyak rekreasi. Mencintai diri sendiri artinya: saya harus berprestasi, saya harus berhasil dan sukses, saya harus bermanfaat untuk orang lain, saya harus bisa membuka lapangan kerja baru, saya harus memberi beasiswa ke banyak orang, dsb. Implikasinya mungkin sangat berat, karena saya harus bekerja lebih keras, mengurangi tidur, atau mendisiplinkan diri saya sendiri. Tapi itu semua saya lakukan karena saya mencintai diri saya sendiri. Ya inilah mungkin hakekat dari ungkapan si Maria, "Cinta adalah siksaan yang manis". Bagi saya, mencintai diri sendiri adalah modal penting dalam kesuksesan mencintai orang lain.
Kebersamaan dan penerimaan bukan sesuatu yang selalu membahagiakan saya. Kadang saya secara fisik harus meninggalkan semua orang yang saya kasihi dan cintai. Kadang saya harus bersikap keras kepada para pedjoeang saya, kepada sahabat saya dan bahkan kepada istri dan anak-anak saya, sehingga sering mereka sulit memahami dan menerima saya. Tapi itu semua saya lakukan karena cinta saya yang teramat sangat kepada mereka, saya tidak ingin mereka gagal, saya ingin semua orang bisa berhasil, dan memberi manfaat kepada orang lain dengan lebih baik. Dan inilah cara saya menghembuskan ayat-ayat cinta kepada mereka 🙂
Meskipun sebenarnya ada kebersamaan dan penerimaan cinta yang selalu saya bahagiakan dan harapkan, yaitu dari Sang Penguasa Alam dan Pemilik Jagad Raya. Inilah koridor penting jalan cinta kita, ingat bahwa cinta mati hanya milik Allah sang penguasa jagad raya bukan untuk makhluk Allah.
Jadi pesan saya, wahai para pemuda, mari letakkan posisi hati kita pada tempatnya. Cinta itu tidak akan membunuhmu, kesalahan posisi hati itulah yang akan membunuhmu.
2. UBAH DEFINISI DAN PARADIGMA CINTA
Kesalahan kedua yang sering kita lakukan adalah kesalahan memahami definisi dan paradigma cinta. Banyak penelitian tentang cinta dilakukan. Salah satu yang cukup terkenal adalah formula cinta dari Robert J Sternberg: A Triangular Theory of Love (Teori Segitiga Cinta).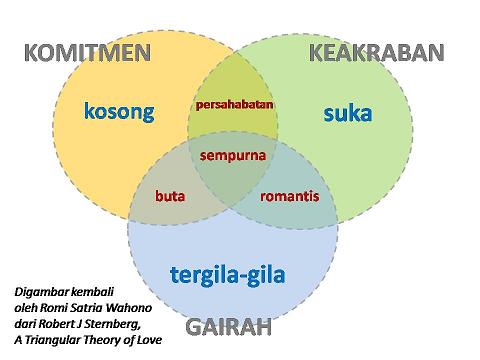 Menurut Sternberg, jenis cinta tergantung dari sifat hubungan kita dengan orang lain. Komitmen saja tanpa gairah dan keakraban adalah Cinta Kosong. Gairah saja tanpa dua unsur yang lain artinya tergila-gila. komitmen dan keakraban tanpa gairah menjadikan persepsi cinta sebagai Cinta Persahabatan. Keakraban dan gairah tanpa komitmen membuat Cinta Romantis. Sedangkan komitmen dan gairah tanpa keakraban menyebabkan Cinta Buta. Ketika kita berhasil menyatukan komitmen, gairah dan keakraban maka akan terjadi Cinta Sempurna.
Banyak yang masih meragukan teori ini bisa berlaku valid untuk semua jenis hubungan cinta, misalnya cinta seorang anak kepada ibunya dan sebaliknya. Hasil penelitian dari Lauren Slater juga mengisyaratkan bahwa susunan kimia otak pemicu romantika, ternyata tidak ada hubungannya dengan komitmen yang memupuk kelekatan jangka panjang. Salim A Fillah, penulis buku Jalan Cinta Para Pejuang, mengatakan bahwa Komitmen adalah sudut kunci dalam teori cinta Robert J Sternberg. Komitmen adalah ikrar kerelaan berkorban, memberi dan bukan meminta, berinisiatif tanpa menunggu dan memahami bukan menuntut.
Sebagian masalah cinta mungkin bisa terwakili oleh Teori Segitia Cinta-nya Sternberg. Tapi kalau kita coba simpulkan dari berbagai referensi lain, dari pandangan Slater, Salim A Fillah dan Anis Matta lewat seri cinta dan pahlawannya di majalah Tarbawi. Cinta Sempurna adalah suatu proses panjang, hasil dari cinta kasih dua manusia yang terjalin dalam suatu hubungan yang sah. Cinta Sempurna bukanlah cinta pada pandangan pertama, karena itu mungkin hanya suatu gairah atau ketergila-gilaan, istilahnya Slater. Cinta Sempurna juga bukan cinta lokasi, cinta monyet, cinta jadi-jadian, cinta karena fisik atau cinta karena harta dan tahta. Cinta Sempurna adalah hasil suatu perdjoeangan panjang. Hasil dari kekuatan kita untuk menyelesaikan masalah perbedaan, memahami kekurangan dan kelebihan, merekatkan hati dan komitmen untuk tetap ada di jalanNya.
Mudah-mudahan ketika terjadi penolakan cinta, kita berani berikrar dengan gagah, "Lupakan dirimu dan aku akan kembali padaNya". Catat bahwa huruf N untuk Nya itu harus kapital 🙂 Jangan lupa ubah genjrengan gitar kita dari lagu kenangan kisah cinta, ke lagu: Menghapus Jejakmu (Peterpan), Baiknya (Ada Band), Musnah (Andra and The Backbone), atau Aku Bukan Untukmu (Rossa) hihihi …
Resapi dua syair ini:
Baiknya semua kenangan yang terindah, tak ku balut dengan tangis
Baiknya setiap kerinduan, yang merajam tak kuratapi penuh penyesalan
Dan bangkitlah, lanjutkan perdjoeangan!
Ingatlah bahwa para legenda tidak pernah mengejar cinta, karena itu:
Janganlah kalian mengejar cinta. Jadilah legenda yang penuh dengan prestasi dan manfaat untuk orang lain, maka cinta akan silih berganti mengejar kalian. Dan ketika masa itu datang, pilihlah takdir cintamu, kelola cintamu, atur kadarnya, arahkan posisinya, dan kontrol kekuatan cinta sesuai dengan tempatnya.
Dan itulah jalan cinta para legenda …
Tetap dalam perdjoeangan!