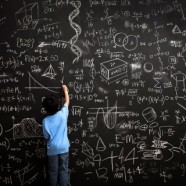 07 Dec

2009
Tags
Related Posts
Share This
Science 2.0 dan Paradigma Baru Research Life Cycle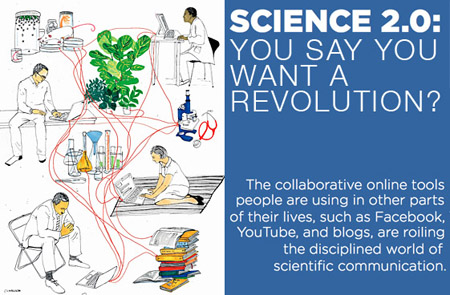 Science 2.0? makhluk apalagi nih? 🙂 Ini adalah tema bahasan yang saya angkat untuk seminar yang diadakan oleh Pusat Penelitian Politik (P2P), Lembaga Ilmu Pengetahuan indonesia (LIPI) tanggal 10 Desember 2009. Seminar mengambil tema Dilema Antara Hak Kekayaan Intelektual dan Penyebaran Ilmu Pengetahuan. Saya sempatkan menyusun makalah ilmiah secara lengkap untuk memberikan gambaran komprehensif tentang Science 2.0. Makalah lengkap bisa didownload lewat link di bagian akhir tulisan ini.
Web 1.0 bergerak menjadi Web 2.0, yang intinya memberi hak pengguna untuk berpartisipasi aktif  (O'Reilly, 2004) (O'Reilly, 2005). Perkembangan Web 2.0 ternyata kemudian memberi pengaruh ke bidang lain selain bidang computing dan Internet. Hal ini ditandai dengan kemunculan berbagai movement di bidang lain yang membawa ruh dan karakteristik Web 2.0. Identity 2.0, Library 2.0, Law 2.0, Media 2.0, Advertising 2.0, Democracy 2.0, Diplomacy 2.0, dan Government 2.0 (Hinchcliffe, 2006) (Wahono, 2008).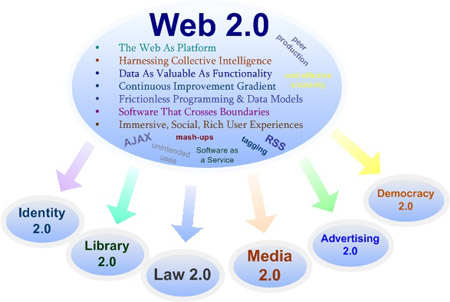 Dion Hinchcliffe (Hinchcliffe, 2006) dalam analisanya tidak secara eksplisit menyebutkan istilah Science 2.0. Akan tetapi kita bisa melihat suatu fenomena dimana peneliti semakin banyak yang mempublikasikan tulisan ilmiah, berkolaborasi ide penelitian, melakukan webinar dengan menggunakan fasilitas Web 2.0. Dan inilah yang disebut dengan Science 2.0 (Waldrop, 2008, January). Ilustrasi menarik datang dari Barret (Barret, 2008), yang menggambarkan Science 2.0 seperti pada gambar di awal tulisan ini.
Konsep utama dan permasalahan ide dari Science 2.0, seperti yang dijelaskan oleh Waldrop (Waldrop, 2008, May) adalah sebagai berikut:
Science 2.0 secara umum merefer ke praktek baru para peneliti yang mempublikasikan hasil eksperimen yang relatif belum matang, teori baru, klaim suatu penemuan dan draft makalah ilmiah melalui Web, blog atau jalur protokol lain (Science 2.0, 2007), supaya bisa dikomentari dengan cepat oleh peneliti lain. Hal ini berbeda dengan konsep Science 1.0 yang mengandalkan kegiatan conference untuk mendapatkan respon dan komentar peneliti lain.

Pendukung Science 2.0 sepakat bahwa praktek keterbukaan akses (open access) membuat perkembangan dunia sains lebih kolaboratif dan akhirnya peneliti menjadi lebih produktif

Pengkritik Science 2.0 mengatakan bahwa mempublikasikan online penemuan awal dari sebuah penelitian membawa resiko terjadinya plagiat ide dan pelanggaran hak kekayaan intelektual (hak cipta, paten, dsb)
Di luar masalah pro dan kontra, Science 2.0 mulai tumbuh dengan pesat. Kebutuhan perkembangan ilmu pengetahuan, percepatan proses research life cycle (problem finding, discussion, research, and publication) dirasakan oleh para peneliti lebih penting daripada memikirkan administratif legal formal dan hak kekayaan intelektual. Mengapa proses dan siklus penelitian ilmiah (research life cycle) yang ada saat ini dirasakan bermasalah? Jawaban dari pertanyaan ini ada pada beberapa pemikiran di bawah:
Model publikasi ilmiah yang ada saat ini sangat-sangat lambat. Paper dari journal ilmiah terbaru yang ada saat ini boleh dikatakan telah berumur setengah sampai dua tahun. Hal ini karena proses research life cycle yang tidak lancar.

Hanya ada satu level diseminasi informasi, yaitu peer-reviewed alias proses review dari makalah untuk jurnal ilmiah atau conference. Proses review ini sangat memakan waktu, terlebih lagi untuk jurnal ilmiah dan conference yang memiliki impact factor tinggi

Pendekatan publikasi yang ada saat ini tidak mendorong adanya feedback terbuka dan review hasil penelitian

Makalah yang dipublikasikan di jurnal dan conference, sering tidak memiliki kelengkapan informasi yang memadai, sehingga hasil penelitian tidak bisa digunakan kembali oleh pihak lain

Makalah di jurnal ilmiah diperbaiki dan ditentukan formatnya dengan tujuan untuk dicetak.

Penyebaran informasi lewat jalur darat (offline) tidak memungkinkan lagi apabila kita ingin mendapatkan hasil yang maksimal, menjangkau wilayah luas dengan biaya yang murah
Terlepas dari pro dan kontra yang terjadi, apabila kita analisa dari berbagai pengalaman penerapan Science 2.0 yang disajikan pada makalah ini, bisa ditarik kesimpulan bahwa proses penelitian secara alami akan menuju ke Science 2.0. Masalah pelanggaran hak kekayaan intelektual tentu harus tetap diperhatikan, meskipun kita bisa gunakan berbagai teknologi dan strategi untuk mencegah dan memberi punishment terhadap pelaku pelanggaran hak kekayaan intelektual. Manfaat besar yang dirasakan peneliti ketika menerapkan konsep Science 2.0, khususnya berhubungan dengan pengembangan ilmu pengetahuan, akan membuat Science 2.0 adalah pilihan terbaik bagi peneliti.
DOWNLOAD
Untuk membaca lengkap makalah ini, silakan gunakan link download di bawah. Untuk berdiskusi lebih lanjut, silakan ikuti Seminar di P2P LIPI tanggal 10 Desember 2009 🙂
Download Artikel Lengkap: romi-science2.0-lipi-10desember2009
REFERENSI
Barrett, R. (2008). Science 2.0: You Say You Want A Revolution. Howard Hughes Medical Institute (HMMI) Bulletin .
Hinchcliffe, D. (2006). The Web 2.0 Revolution Spawns Offshoots… Social Computing Journal .
O'Reilly, T. (2005). What is Web 2.0: Design Patterns and Business Models for the Next Generation of Software. O'Reilly Media (http://oreilly.com/web2/archive/what-is-web-20.html).
O'Reilly, T., & Battelle, J. (2004). Opening Welcome: State of the Internet Industry. Web 2.0 Conference. San Francisco: Media Live International and O'Reilly Media.
Science 2.0. (2007, 10 30). Retrieved 12 3, 2009, from Open Wet Ware – Share Your Science: http://openwetware.org/wiki/Science_2.0/Brainstorming
Wahono, R. S. (2009). eContent, HKI dan eCheating. IDLN Meeting 2009. Bandung: Institut Teknologi Bandung (ITB).
Wahono, R. S. (2008). Pengelolaan Konten di Era Web 2.0. Seminar Pengelolaan Konten dan Sharing Informasi. Jakarta: Kementrian Negara Riset dan Teknologi (RISTEK).
Waldrop, M. (2008, January). Science 2.0 – Great New Tool, or Great Risk? Scientific American Magazine .
Waldrop, M. (2008, May). Science 2.0 – Is Open Access Science the Future? Scientific American Magazine .