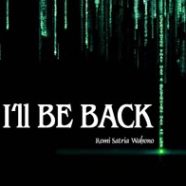 24 Jan

2006
Tags
Related Posts
Share This
Saatnya Kembali …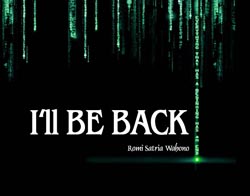 Setelah lebih dari 1 tahun saya nonaktifkan situs RomiSatriaWahono.Net, hari ini datanglah masa untuk kembali. Sudah terlalu banyak teman-teman yang menanyakan janji saya di situs, yang dulu saya tulis besar, ya … "I'll be back". Meskipun sebenarnya di samping tulisan itu saya juga kutipkan kalimat filosofis di film Matrix bahwa "Everything that has a Beginning has an Ended". Demikian juga dengan situs yang baru ini, saya yakin suatu saat ini juga akan berakhir, berganti dan berevolusi. Meskipun perdjoeangan saya tidak berakhir hanya karena matinya sebuah situs. Well, yang pasti, saya telah kembali 😉 Kembali dengan kesegaran dan kebugaran, mudah-mudahan lebih produktif lagi daripada yang lalu.
Sejarah pembuatan situs (situs web, web atau homepage), saya mulai dari ketika masih duduk di semester 1 Undergraduate Program, Department of Computer Science, Saitama University, Jepang tahun 1995. Domain menggunakan domain Universitas dengan user account menggunakan nomor induk mahasiswa. URL yang saya pakai waktu itu adalah http://www.edu.ics.saitama-u.ac.jp/~j562rs. Sampai hari ini saya lihat account saya di sana masih aktif, tapi kedepannya semua account alumni akan dihapus dari Server. Di situs itulah kita melaporkan aktifitas pembelajaran di Universitas, laporan ngoprek yang nonformal maupun laporan formal seperti laporan project kuliah yang kita kerjakan, baik kerja tim maupun individu.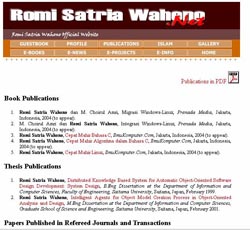 Desain situs saya berganti-ganti setelah itu, dari yang statik html, dynamic dengan cgi+perl, php, dsb. Yang terakhir, saya gunakan kombinasi warna coklat dengan tampilan sederhana dan berisi beberapa paper publications di conference dan seminar, gallery yang berisi foto keluarga dan kegiatan, islamic page yang berisi koleksi murottal, nasyid, quran dan hadith, serta buku tamu. Saya mulai menggunakan nama domain yang unik dengan menggunakan nama resmi, jadilah kemudian saya register domain RomiSatriaWahono.Net. Secara keseluruhan sebenarnya cukup well designed dan ringan diakses untuk sebuah situs pribadi, meskipun itu tidak bisa mengalahkan rasa kebosanan saya 😉 Dan akhirnya situs itu yang saya downkan selama kurang lebih 1 tahun, saya ganti dengan satu image hitam bertuliskan I'll be back.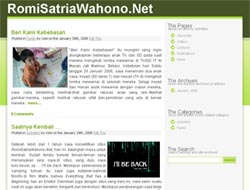 Tampilan yang terbaru ini saya gunakan model blog, bukan karena ikut-ikutan, tapi karena kebutuhan. Setelah hampir 2 tahun pulang dari studi di Jepang (saya pulang bulan April 2004), saya mulai banyak aktifitas, mulai banyak pengalaman baru yang muncul, mulai mengembangkan penelitian di Indonesia, mulai mengembangkan bisnis, dan yang pasti mulai agak penat dengan birokrasi di Indonesia 😉 IlmuKomputer.Com juga semakin banyak dan bervariasi kegiatannya, disamping tetap komitmen untuk memberi solusi pendidikan IT murah, juga semakin banyak kerjasama yang kita jalin dengan berbagai pihak, baik akademisi maupun industri. Insya Allah saya ingin menuliskan pengalaman-pengalaman saya dalam bentuk essay yang ringan, sehingga mudah dipahami dan dicerna untuk semua kalangan.
Terima kasih atas dukungannya.
Tetap dalam perdjoeangan ….