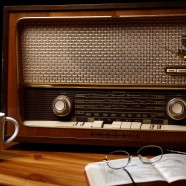 10 Jan

2008
Tags
Related Posts
Share This
Membangun Radio Internet dengan Listen2MyRadio.Com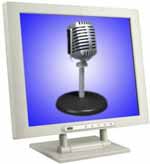 Artikel berjudul Membangun Sendiri Radio Internet yang saya tulis dua tahun lalu ternyata masih banyak dibaca pengunjung situs blog ini. Khususnya bagi yang tertarik untuk membangun sendiri radio internet untuk tujuan hobi maupun profesional. Dari komentar yang masuk, banyak yang mengeluhkan sulitnya menemukan perusahaan hosting yang mau menghosting shoutcast server untuk radio internet. Jadi meskipun radio sudah bisa online di jaringan LAN, tapi akhirnya kesulitan untuk online di Internet. Sebenarnya ada solusi yang mudah dan gratis, khususnya terkait dengan penempatan shoutcast server, yaitu dengan menggunakan shoutcast server yang disediakan gratis oleh Listen2MyRadio.Com. Masih tertarik membangun radio internet dengan modal server gratisan? Ikuti terus artikel ini.
Seperti artikel sebelumnya, untuk mempermudah penjelasan, saya akan sampaikan dalam bentuk step-by-step instalasi, baik untuk server (Listen2MyRadio.Com) maupun untuk client yang mengalirkan konten siaran ke server.
INSTALASI SERVER RADIO DI LISTEN2MYRADIO.COM
1. Daftarkan diri (signup) melalui form pendaftaran di Listen2MyRadio.Com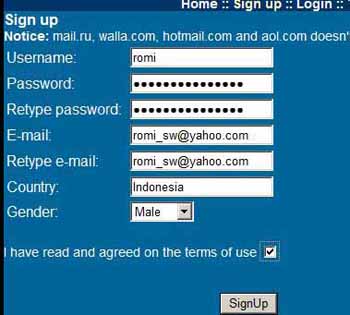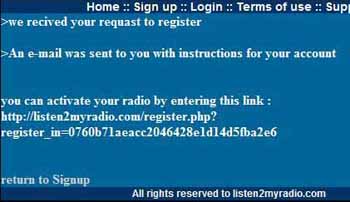 2.Konfirmasi pendaftaran dengan mengklik URL yang dikirimkan oleh Listen2MyRadio.Com ke email kita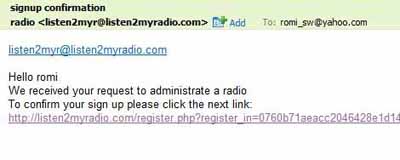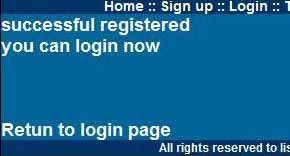 3. Login ke Listen2MyRadio.Com. Setelah login akan muncul menu administrasi seperti gambar di bawah.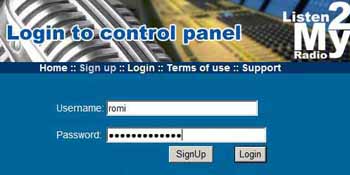 4. Klik "radio installation" untuk mulai mensetup nama radio, alamat URL radio, juga password untuk broadcaster dan admin. Disini saya set misalnya password: "romi" dengan url: ikc.listen2myradio.com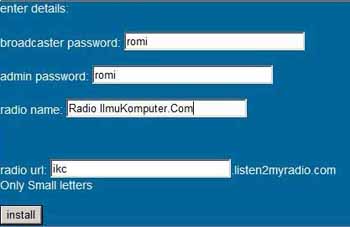 5. Setelah instalasi server radio selesai, kembali ke bagian menu, dan pilih "preferences". Apabila server sudah normal berjalan maka tanda "ON" berwarna hijau akan muncul. Jangan lupa catat "address to broadcast" (misalnya disini: 91.186.30.12) beserta nomor "port" (16532) karena akan kita gunakan di client pengirim konten radio (winamp).
6. Apabila server tetap dalam keadaan "OFF", maka kita harus memilih server baru. Caranya adalah di menu klik pilihan "have problem with radio? change server to a better one", dan pilih (klik PRESS HERE) salah satu dari beberapa pilihan server yang ada di sana. Perlu dicatat bahwa pengubahan server tentu akan membuat "address to broadcast" kita juga berubah.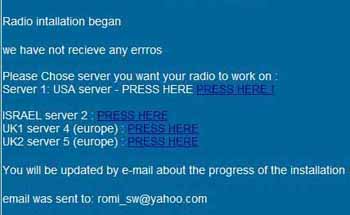 Sampai disini instalasi server radio di Listen2MyRadio sudah kita selesaikan. Langkah berikutnya sebenarnya sama dengan langkah ke 3-9 artikel saya sebelumnya tentang membangun sendiri radio internet. Tapi saya akan ulangi tahapannya supaya bisa lebih jelas.
INSTALASI CLIENT PENGALIR KONTEN KE SERVER LISTEN2MYRADIO.COM
1. Download dan Install Winamp dan Shoutcast DSP Plugin di komputer tempat kita akan mengalirkan content radio (mp3 music, dsb) ke Shoutcast Server (Listen2Myradio.Com). Download dari URL di bawah:
2. Jalankan Winamp, kemudian klik kanan dan pilih "Options" -> "Preferences".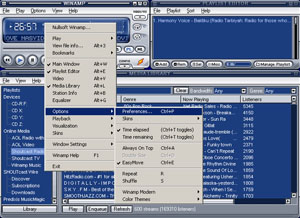 3. Klik DSP/Effect di bagian Plug-ins dan pilih Nullsoft SHOUTcast Source DSP. Kemudian akan muncul satu window SHOUTcast Source dengan menu "Main", "Output", "Encoder", "Input".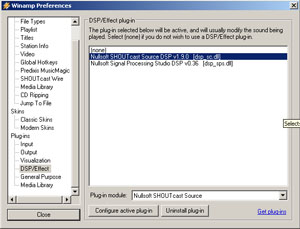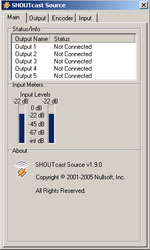 4. Pilih "Output" dan klik "Connect" untuk konek ke Shoutcast server. Perlu dicatat, "Address", "Port" dan "Password" harus sesuai dengan catatan setting kita di Listen2Myradio.Com. Saya sendiri mendapatkan address: 91.186.30.12, port: 16532, dan password saya set: "romi".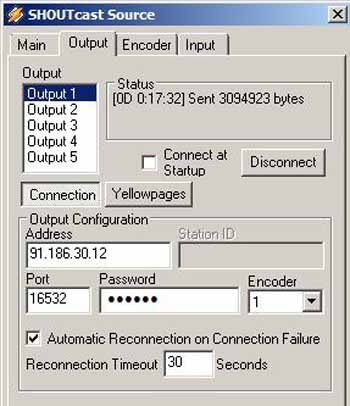 5. Sekarang tinggal alirkan saja content (music, sound, dsb) ke Shoutcast Server. Caranya mudah, letakkan file mp3 di Winamp dan tekan tanda play, maka music anda akan ter-broadcast ke seluruh dunia maya.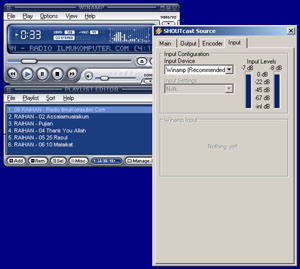 6. Pertanyaan lain yang muncul, bagaimana kalau kita ingin mengalirkan suara kita secara live? Siapkan microphone dan masukkan kabel microphone ke soundcard PC anda. Kemudian kembali ke Winamp anda, pada SHOUTcast source, pilih "Input", kemudian ubah "Input device" dari "Winamp (recommended)" ke "Soundcard Input". Lalu siapkan microphone di depan mulut anda, dan ucapkan "Selamat datang di Radio Internet saya yang tercinta ini".
CEK APAKAH RADIO KITA BERJALAN NORMAL
1. Cek dengan menjalankan browser dengan URL yang tadi kita set di Listen2Myradio.Com, misalnya saya tadi menset URL radio saya adalah http://ikc.listen2myradio.com/
2. Akan muncul tampilan seperti gambar di bawah, klik tombol play untuk mendengarkan siaran. Jujur saja di kanan kiri halaman radio kita akan banyak iklan dari Google Adsense, tapi ya itulah resiko menggunakan server gratis 🙂 Tapi tidak perlu khawatir karena iklan ini tidak mengurangi fitur atau efektifitas dari server radio di Listen2MyRadio.Com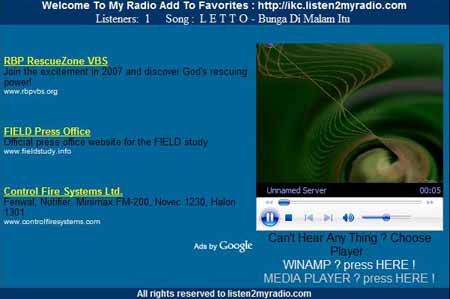 Selesai, kalau masih ada yang error, ulangi lagi tahapan instalasi seperti yang saya jelaskan diatas. Dari komentar di artikel sebelumnya, kesalahan dan error banyak terjadi karena tahapan instalasinya tidak diikuti dengan baik. Dan terakhir, selamat menjadi penyiar radio internet yang anda bangun sendiri 🙂