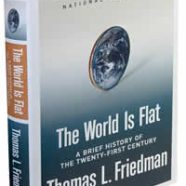 08 Feb

2007
Tags
Related Posts
Share This
The World Is Flat: Globalisasi Versi Baru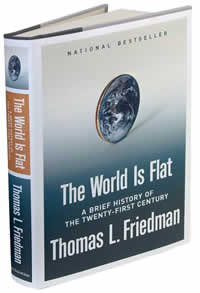 Dari jalan-jalan ke toko buku akhir pekan lalu, saya membawa pulang buku karya Thomas L. Friedman yang berjudul The World is Flat. Buku best seller ini memberikan sebuah gambaran ringkas bagaimana berjalannya peradaban dunia saat ini. Saya mencoba merangkumkan pemikiran-pemikiran Friedman dalam beberapa artikel di blog ini. Dimulai dari kisah perjalanan Friedman ke India dan penemuan menarik bahwa ketika dia menjalani hidup di Bangalore, seolah serasa hidup di Kansas. Ketika bermain golf di India Selatan itu, lapangan golf dikelilingi oleh gedung-gedung perusahaan besar Amerika, ada IBM, Microsoft, Goldman Sachs, HP, dan Texas Instruments. Aksesoris lingkungan juga tidak jauh berbeda, karena penanda tee golf disponsori oleh Epson, sang Caddy mengenakan topi 3M, rambu lalu lintas tertempel Texas Instruments, papan billboard Pizza Hut dengan judul "Gigabites of Taste".
500 tahun yang lalu Columbus berlayar bersama ratusan orang di tiga kapalnya untuk menemukan jalan lebih singkat ke India yang penuh dengan sumber kekayaan berupa emas, mutiara, batu permata dan sutra. Dia berlayar ke barat menyeberangi lautan atlantik serta menghindari selatan (mengitari Afrika) seperti yang ditempuh portugis. Columbus sedikit keliru memperhitungkan jarak, dan menemukan suatu daratan yang ternyata bukan India, meskipun orang di daratan tersebut dia beri nama "Orang India". Columbus mempekerjakan "Orang India" itu sebagai budak dan sumber tenaga kasar yang gratis. Columbus juga berhasil membuktikan bahwa dunia ini bulat.
Sebaliknya, Friedman menuju India dengan pesawat Lufthansa, tentu tidak perlu tersesat karena ada GPS dengan tingkat kekeliruan hanya 1-2 meter. Friedman-pun pergi mencari kekayaan India seperti Columbus, hanya berbeda dengan Columbus yang mencari perangkat keras, Friedman mencari perangkat lunak, kekuatan otak, algoritma kompleks, pekerja intelektual, pusat layanan informasi dan terobosan baru teknologi serat optik sebagai sumber kekayaan masa kini. Berbeda dengan Columbus, Friedman justru kaget karena "Orang India" yang dia temui ternyata malah mengambil alih pekerjaannya, pekerjaan orang-orang di negaranya dan juga negara industri lain. Kalau Columbus secara tidak sengaja menemukan Amerika yang dia kira bagian dari India, Friedman justru menemukan India dan mengira bahwa yang dia temui adalah bagian dari Amerika. Orang India yang ditemuinya menggunakan nama Amerika, meniru aksen Amerika dan meniru teknik bisnis Amerika. Dan yang pasti Friedman telah membuktikan bahwa dunia ini datar (the world is flat).
Globalisasi secara hakekat telah berlangsung sejak lama. Globalisasi versi 1.0 telah dimulai Columbus di tahun 1492, juga pergerakan lain sampai tahun 1800-an. Proses ini menyusutkan dunia dari ukuran besar menjadi sedang. Globalisasi 1.0 berhubungan dengan negara dan otot, pelaku utama dan kekuatan penyatuan global adalah seberapa gigih, seberapa besar otot, seberapa besar tenaga kuda, tenaga angin, tenaga uap yang dimiliki suatu negara. Motor penggerak Globalisasi 1.0 adalah meng-globalnya negara. Pertanyaan utama Globalisasi 1.0 adalah: Dimana posisi dan peluang negara saya dalam persaingan global? Bagaimana saya turut mendunia dan bekerjasamad engan orang lain lewat negara saya?
Globalisasi versi 2.0 berlangsung dari tahun 1800-2000. Masa ini menyusutkan dunia dari ukuran sedang ke ukuran kecil. Dalam Globalisasi 2.0 pelaku utama dan kekuatan penyatuan global adalah perusahaan-perusahaan multinasional. Perusahaan-perusahaan ini mendunia demi pasar dan tenaga kerja. Pada masa awal, penyatuan global dimotori jatuhnya biaya pengangkutan berat mesin uap dan kereta api. Berikutnya dimotori oleh jatuhnya biaya telekomunikasi berkat penyebaran telegraf, telepon, PC, satelit, serat optik, Word Wide Web versi awal. Terjadi pasar global dengan adanya pergerakan barang, jasa, informasi dan tenaga kerja dari benua ke benua. Motor penggerak Globalisasi 2.0 adalah meng-globalnya perusahaan. Pertanyaan utama Globalisasi 2.0 adalah: Dimana posisi dan peluang perusahaan saya dalam ekonomi global? Bagaimana perusahaan saya bisa memanfaatkan peluang tersebut? Bagaimana saya turut mendunia dan bekerjasama dengan orang lain melalui perusahaan saya?
Globalisasi versi 3.0 dimulai tahun 2000, yang menyusutkan dunia dari ukuran kecil menjadi sangat kecil dan mendatarkan lapangan permainan. Era yang memungkinkan memberdayakan dan melibatkan individu serta kelompok kecil untuk dengan mudah menjadi global dengan sebutan "tatanan dunia datar" (flat world platform). Contoh nyatanya adalah konvergensi (penyatuan) antara komputer pribadi yang memungkinkan setiap individu dalam waktu singkat menjadi penulis materi mereka sendiri seara digital, serat optik yang memungkinkan mereka untuk mengakses lebih banyak materi materi di seluruh dunia dengan murah, serta workflow software yang memungkinkan individu-individu di seluruh dunia untuk bekerja bersama-sama mengerjakan suatu materi digital dari manapun, tanpa menghiraukan jarak antar mereka. Motor penggerak Globalisasi 3.0 adalah kekuatan baru yang ditemukan untuk bekerjasama dan bersaing secara individual dalam kancah global.
Saya akan lanjutkan dengan artikel berikutnya yang berjudul The World Is Flat: 10 Kekuatan Yang Mendatarkan Dunia.