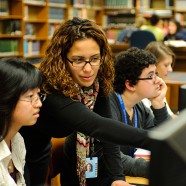 18 Dec

2014
Tags
Related Posts
Share This
Bagaimana Melakukan Penelitian Yang Baik?
Pada artikel ini, saya mencoba merangkumkan tahapan melakukan penelitian yang ditulis oleh Prof Bochman. Tulisan pendek berjudul "How to do Good Research" ini, sebenarnya tidak terlalu jauh berbeda dengan artikel yang saya tulis di blog ini tentang, Tahapan Memulai Penelitian untuk Mahasiswa Galau dan juga Tahapan Penelitian dengan Fokus Perbaikan Metode. Sekali lagi perlu saya tegaskan bahwa dalam research di bidang computing, "(state-of-the-art) method improvement" adalah tujuan utama penelitian. Dan disinilah kita bisa mengklaim kontribusi (contribution to knowledge) dari penelitian yang kita lakukan. Menulis code program, membangun software sistem, melakukan simulasi, dan termasuk didalamnya studi kasus, obyek/domain, dataset, dsb yg kita gunakan, hanyalah sebagai testbed untuk mengukur bahwa "method improvement" yg kita lakukan terbukti lebih baik dibandingkan dengan state-of-the-art methods (metode-metode mutakhir yang ada).
Artikel ini sekaligus menjawab pertanyaan adik-adik mahasiswa yang selalu mengatakan, mohon maaf lama tidak bimbingan, sebab saya sedang mengumpulkan data, saya sedang menunggu data dari perusahaan, atau saya sedang kerja keras mengumpulkan dana untuk bisa mengambil data di seluruh rumah sakit di Indonesia. Mengapa harus repot-repot mengeluarkan banyak dana dan waktu hanya untuk mengumpulkan data? Seharusnya konsentrasi kita untuk menentukan masalah penelitian yang akan kita selesaikan, dan menyusun metode yang lebih baik dibanding metode-metode yang sudah ada saat ini (state-of-the-art methods). Data ataupun dataset hanyalah alat untuk testbed, menguji metode yang kita usulkan. Untuk penelitian kita, tidak masalah bila kita menggunakan public dataset yang ada di repositori yang bebas diakses semacam UCI (untuk berbagai obyek data), PROMISE (untuk bidang software engineering), ACM KDD Cup, dan berbagai respositori public lain.
Rangkuman tahapan penelitian yang ditulis oleh Gregor v. Bochmann adalah sebagai berikut.
Choose an interesting area for research
Identify an interesting research topic (a problem for which there is no good solution)
Have some good idea how to improve the state of the art
Show that your idea works: e.g.

Apply it to some examples (realistic case studies, if possible)
Prove some properties of your approach (logical properties or analytical performance predictions) and show that it is better than the current state of the art
Do simulation studies (e.g. for performance) and show that your approach is better than the current state of the art
Build a software tool that supports your approach

Do a systematic comparison with other approaches to the same problem and discuss advantages AND disadvantages of your approach
Write up your results in some papers which make these results accessible to the interested expert.
Artikel lengkapnya silakan membaca dari link ini: How to do Good Research. Mudah-mudahan makin mempermudah jalan kita untuk melakukan penelitian yang berkualitas.
Tetap dalam perdjoeangan!