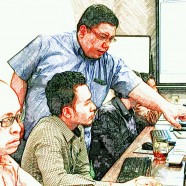 26 Nov

2007
Tags
Related Posts
Share This
FAQ Undangan Keluyuran Ilmiah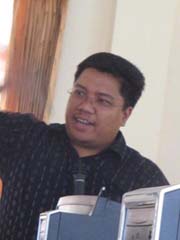 Nggak tahu ini namanya rizki, tantangan, cobaan atau beban, yang pasti dalam setahun paling tidak saya menerima 60-80 undangan untuk berbicara di seminar, conference, talkshow, kuliah umum atau acara BEM mahasiswa. Tentu tidak semua undangan "keluyuran ilmiah" (*) ini saya terima, saya bukan superman yang bisa ngomong dari masalah image processing sampai pesawat terbang yang nyungsep ke dasar laut 😉 Tema saya batasi sesuai dengan core competence dan image branding yang saya bentuk selama ini, yaitu seputar masalah technopreneurship, research methodology, software engineering, machine learning, open technology, eLearning dan knowledge management. Itupun tidak semua wilayah saya kuasai, saya tetap akan menolak menjadi pembicara apabila saya tidak memiliki knowledge atau experience yang mencukupi pada suatu bidang. Mohon maaf kalau selama ini sudah mengecewakan rekan-rekan panitia karena penolakan saya.
Secara umum saya memiliki research and industry experiences di bidang-bidang tersebut. Sehingga Insya Allah yang saya ungkapkan adalah hasil analisa, bukan asal ngomong, apalagi mengambil referensi dari jenis publikasi yang tidak bisa dipertanggungjawabkan. Saya berusaha menyajikan materi dengan mudah, menarik dan gampang dicerna, dengan bantuan alat presentasi dan laptop yang saya persiapkan sendiri. Intinya saya akan tampil profesional (maaf bukan promosi :)), meskipun perlu saya beri catatan bahwa "pembicara seminar" bukanlah profesi saya. Profesi saya adalah dosen, peneliti, penulis dan entrepreneur. Seminar, conference maupun kuliah umum adalah sarana saya mempublikasikan dan mensosialisasikan hasil pemikiran, ide dan penelitian saya ke masyarakat.
Nah ada beberapa pertanyaan berulang yang sering diajukan panitia acara yang alangkah baiknya apabila saya jawab saja di posting ini dalam bentuk FAQ (Frequently Asked Questions). Mudah-mudahan bisa memperjelas bagaimana konsepsi saya tentang sebuah acara akademik bernama seminar, conference, kuliah umum dan mimbar akademik lainnya.
Tanya: Bagaimana prosedur mengundang mas Romi?
Jawab: Tidak ada prosedur khusus, pokoknya kalau acara sudah fix tolong kontak saya lewat email, WA, Line atau HP. Tentukan hari dan tanggalnya, berikan saya informasi tentang acara, terutama audiensenya siapa dan latar belakang pendidikannya seperti apa. Nanti hari dan tanggal tersebut akan saya masukkan ke schedule yang bisa diakses lewat situs ini 🙂 Intinya daftar kegiatan, schedule dan dimana posisi saya saat ini bisa dicek lewat situs ini.
Tanya: Untuk apa perlu tahu audiense dan latar belakang? Kita pernah ngundang banyak pembicara, biasanya nggak pernah tanya informasi itu.
Jawab: Meskipun berdiskusi dalam tema yang sama, materi dan teknik penyampaian harus saya sesuaikan dengan peserta dan latar belakang mereka. Pasti pada mumet kalau saya cerita tentang technical aspect di sistem elearning, padahal peserta belum pernah pegang komputer. Atau agak lucu kalau saya cerita ngalor ngidul tentang community building di internet  dimana peserta 90% tidak paham apa itu internet. Saya bukan pembicara yang hit and run, saya datang untuk memahamkan sebuah ilmu pengetahuan dan juga untuk menjalin networking serta kerjasama. Saya tidak datang untuk berbicara sekenanya, berharap tidak banyak peserta yang bertanya dan pulang dengan amplop tebal di tangan.
Tanya: Bagaimana dengan ticket pesawat, apakah harus menggunakan perusahaan penerbangan khusus (Garuda misalnya)? Dan apakah kita belikan dulu atau mas Romi bisa belikan dari Jakarta?
Jawab: Ticket pesawat bisa saya beli dulu atau bisa juga dibelikan panitia. Kita sesuaikan dan diskusikan saja mana yang lebih gampang dan enak. Dan tidak harus Garuda atau suatu maskapai penerbangan tertentu. Saya biasanya kalau beli ticket sendiri menggunakan maskapai yang punya fitur beli ticket online  (e-Ticket). Kepraktisan saja, supaya saya nggak perlu ke travel agent dan langsung bisa cek kursi plus harganya.
Tanya: Persyaratan ruangan untuk acara sebaiknya seperti apa?
Jawab: Hmmm tidak ada syarat khusus, mau pakai ruangan bengkel atau garasi mobil juga ok 😉 Hanya kalau bisa usahakan di ruangan tertutup dengan layar LCD projector (infocus) terlihat jelas. Juga kalau bisa sound system tidak menggema di ruangan (sulit didengarkan peserta). Setting tempat pembicara juga jangan terlalu tinggi. Saya tidak pernah berbicara di mimbar atau duduk di belakang meja pembicara. Saya biasa berbicara sambil berdiri atau jalan di dekat peserta. Tidak perlu asrot (asisten sorot) atau ascet (asisten pencet), karena saya membawa wireless presentation tool. Intinya kekuatan saya ada di layar, suara dan body language (halah!) … hehehe
Tanya: Mohon maaf mas kalau nggak sopan, tarif mas Romi berapa ya untuk satu sesi bicara?
Jawab: Hehehe … ini pertanyaan yang sering banget muncul. Sekali lagi profesiku bukan "pembicara seminar", meskipun saya selalu berusaha tampil profesional. Saya tidak pernah pasang tarif dan tidak pernah punya manajemen yang ngatur tarif, jadi sesuaikan saja dengan budgeting pada saat nyusun acara. Kalaupun di budgeting tidak ada fee untuk pembicara ya tidak apa-apa, asal diberi ticket, Insya Allah saya akan datang. Sekali lagi, seminar, conference dan kuliah umum adalah tempat dimana saya sebagai dosen dan peneliti melakukan knowledge sharing, mensosialisasikan berbagai ide, pemikiran dan hasil penelitian ke publik. Jadi masalah fee bukanlah masalah utama bagi saya. Nah kadang-kadang ada juga panitia yang memiliki budget lebih karena acaranya ternyata besar dan sukses, kemudian memberi saya honor sedikit berlebih, ya tentu saja saya tidak akan kufur nikmat, alias dengan ikhlash menerimanya … hehehe. Alhamdulillah tanpa saya meminta, banyak yang memberi saya modal beli buku dengan cara seperti ini 😉
Untuk sementara ini dulu, saya pikir hampir semua pertanyaan sudah saya jawab. Kalau ada pertanyaan-pertanyaan lain yang muncul, saya akan share lagi di halaman ini. Terima kasih atas kesabaran membaca "nggedabrusan" saya sampai paragraf terakhir ini 🙂
(*) Terminologi "Keluyuran Ilmiah" pertama kali diungkapkan oleh Abah Oryza (Thanks om !) pada komentar artikel saya tentang keluyuran di PENS ITS 😉