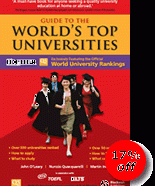 21 Sep

2007
Tags
Related Posts
Share This
Teknik Perangkingan Universitas ala THES-QS
Teknik perangkingan universitas ala ARWU yang sudah saya bahas di artikel sebelumnya, boleh dikatakan relatif sempurna dari sudut pandang penelitian dan akademik. Hanya sayangnya teknik dan rangkingnya kurang tersosialisasi dengan baik ke masyarakat. Lho kok bisa? Ini sebenarnya tidak aneh, peneliti di Universitas punya behavior lebih senang mempublikasikan karyanya ke journal ilmiah, serta memiliki jalur orbit dari conference ke conference. Masalahnya, masyarakat umum jarang sekali yang membaca publikasi journal ilmiah, mereka lebih banyak menikmati koran dan majalah. Masalah ini yang diperbaiki oleh The Times Higher Education Supplement (THES). Bekerjasama dengan QS Top Universities, THES menyajikan informasi rangking universitas yang dikemas dalam bentuk cetak (buku) maupun elektronik (situs web), bagi calon mahasiswa di seluruh dunia yang sedang memilih universitas untuk masa depannya. Bagaimana teknik yang digunakan THES-QS ini? Mari kita bahas.
THES menggunakan 4 kriteria utama dalam menentukan skor rangking universitas di dunia, yaitu:
Kualitas Penelitian (Research Quality)

Kesiapan Kerja Lulusan (Graduate Employability)

Pandangan Internasional (International Outlook)

Kualitas Pengajaran (Teaching Quality)
4 kriteria diatas dijlentrehkan dalam berbagai indikator penilaian dimana masing-masing indikator memiliki bobot (weight) yang berbeda. Lengkapnya ada dalam gambar di bawah: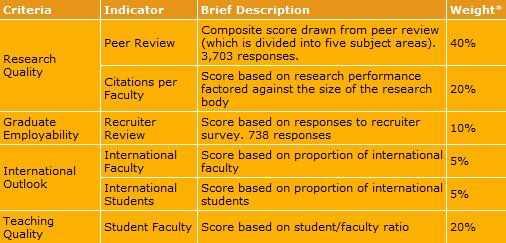 Kriteria Kualitas Penelitian (Research Quality) memiliki bobot yang paling tinggi (60%). Dua indikator yang dinilai adalah yang pertama dari hasil Peer Review. Disebarkan angket online ke 190.000 akademisi dimana mereka diminta mengisi pertanyaan berdasarkan bidang kepakaran mereka, yaitu Arts & Humanities, Engineering & IT, Life Sciences & BioMedicine, Natural Sciences dan Social Sciences. Kemudian mereka diminta memilih 30 universitas terbaik dari wilayah mereka sesuai dengan bidang kepakaran tersebut. Indikator kedua adalah Citations per Faculty, alias berapa banyak publikasi paper dari peneliti (professor) di univesitas tersebut dan jumlah citation (kutipan) berdasarkan data dari the Essential Science Indicators (ESI).
Kriteria Kesiapan Kerja Lulusan (Graduate Employability) memiliki bobot 10% dengan indikator penilaian Recruiter Review. Penilaian dilakukan berdasarkan hasil survey terhadap 375 perekrut tenaga kerja.
Kriteria Pandangan Internasional  (International Outlook) memiliki bobot 10% dengan dua indikator yaitu, jumlah fakultas yang menyediakan internasional program dan jumlah mahasiswa internasionalnya.
Kriteria Kualitas Pengajaran (Teaching Quality) dinilai dari indikator rasio jumlah mahasiswa dan fakultasnya (Student Faculty). Bobot penilaian cukup signifikan karena mencapai 20%.
Selain dari hasil survey, data-data tambahan juga diambil dari organisasi World Scientific, Mardev, JobsDB (Philippines) dan JobStreet (Malaysia).
Peringkat 100 teratas masih didominasi universitas-universitas dari Amerika Serikat, Eropa dan Australia. Tahun 2006, Asia berhasil menempatkan 13 universitasnya di top 100, yaitu Jepang (3 universitas), Hongkong(3 universitas), China(2 universitas), Singapura (2 universitas), India (2 universitas), dan Korea Selatan (1 universitas).
Universitas di Indonesia apakah ada yang masuk di perangkingan universitas ala THES-SQ ini? Saya lihat paling tidak ada lima universitas yang berhasil masuk (rangking diatas 250) yaitu: Universitas Airlangga, Institute Teknologi Bandung, Institute Pertanian Bogor, Universitas Diponegoro, Universitas Gadjah Mada dan Universitas Indonesia. Silakan lengkapnya dicek dari http://www.topuniversities.com dan http://www.thes.co.uk
Teknik perangkingan lain yang termasuk diakui di dunia pendidikan saya bahas di artikel tentang ARWU dan Webometrics.