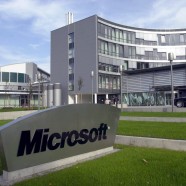 19 Jan

2007
Tags
Related Posts
Share This
Masih Tentang MoU Microsoft (versi KNRT)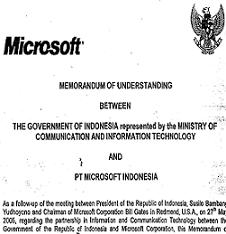 Melanjutkan kisah sebelumnya, pertemuan hari ini, Jumat, 19 Januari 2007 di Kementrian Negara Riset dan Teknologi (KNRT) lebih rame daripada pertemuan sebelumnya di Depkominfo. Teman-teman dari komunitas opensource yang datang juga relatif lebih banyak dari sebelumnya. Yang pasti ada nama-nama: Ahmad Suwandi, I Made Wiryana, Rahmat M. Samik Ibrahim (2 hari turun gunung terus), Rusmanto, Harry Sufehmi, Ahmad Sofyan, Heru Nugroho (moderator acara), Adang Suhendra, Prihantoosa, Irwin Day, Anjar Ari Nugoho, Dheche, Aulia Adnan, Bona Simanjuntak (telat loe Bon, dasar!) dan saya sendiri Romi Satria Wahono (bukan Wirawan ya om DonnyBU, tolong ganti yg di detikinet! grrhhh) ;). Dari KNRT, pak Kusmayanto Kadiman (KK) full team, ada pak Richard Mengko, pak Engkos Koswara, pak Kemal, pak Idwan, dsb. Tolong tambahi lagi ya kalau ada yang kelewat, pasti banyak 🙂
Model acaranya sedikit berbeda dengan sewaktu ketemu pak Sofyan Djalil. Pak KK minta kita mengenalkan diri dan apa yang sedang diperjuangkan (mewakili komunitas apa). Saya pikir format ini lebih menarik, karena kita semua diberi kesempatan bicara. Setelah itu baru pak KK memberikan beberapa patah kata berhubungan dengan tema pembahasan. Karena saya telat, maaf mampir dulu ngambil dokumen di LIPI, sambil nunggu 3in1, beberapa hal yang sempat tercatat adalah:
Made Wiryana cerita tentang aktifitas opensource dan Linux di Indonesia dan kerjasama dengan 3 generasi pemerintah, Bona cerita tentang Asia Source di Sukabumi, saya cerita tentang opencontent dan IlmuKomputer.Com (termasuk sedikit tentang mimpi ke depan seperti MIT opencourseware), Ahmad Sofyan cerita tentang RimbaLinux, Harry Sufehmi cerita tentang pengalaman migrasi sewaktu di UK (birmingham), pak Rusmanto cerita tentang Yayasan Penggiat Linux Indonesia dan juga masalah tentang infolinux dan masalah pemasang iklan yang menurun karena satu dan lain hal (maaf boleh ditulis disini pak Rus?). Pak Adang cerita ke-Gunadarma-an dan Wandi cerita tentang ke-airputih-annya. Irwin Day juga muncul hari ini dengan gaya ceplas ceplos ala milis 🙂
Pak KK mengatakan bahwa dia tidak berniat untuk beradu argumentasi lebih jauh dengan pak Sofyan Djalil. IGOS adalah kesepakatan bersama banyak mentri, termasuk didalamnya Depkominfo di tahun 2004. Pak KK hanya ingin komitmen itu dijalankan bersama, sekali lagi IGOS bukan cetusannya, mungkin dia hanya perbaiki tata bahasanya menjadi "Indonesia, Go Opensource" (pakai koma). Dia pingin tunjukkan dan buktikan dengan progres, sudah seberapa jauh beliau bisa me-migrasi instansi-instansi pemerintah ke opensource. Dia mulai dari beberapa rekan yang kebetulan memimpin institusi Jimly Assidiqie(Mahkamah Konstitusi), Faisal Basri (KPPU), dsb. Pak KK juga sempat cerita bagaimana beliau mengkritik seorang Mentri di Thailand karena ucapannya di media massa yang keliru tentang opensource. Sukses migrasi opensource di KNRT karena pak KK sendiri maju, langsung menggunakan opensource. Ketika yang diatas sudah mau melaksanakan, pasti yang di bawah akan ikut.
Pak KK mendukung konsep Be Legal. Dan dia juga tidak mempermasalahkan MoU secara isi karena justru itu wujud demokrasi. Kalau semua dipaksa memakai satu solusi itu gaya sosialis, dan itu tidak baik untuk republik ini. Mungkin yang perlu diperhatikan mengenai masalah kewenangan, seorang mentri berwenang penuh terhadap kementrian/departemen yang dipimpin. Ketika seorang mentri ingin membuat kebijakan untuk seluruh Indonesia, dia harus mendapatkan delegasi formal dari pemimpin diatasnya atau mentri yang secara default mendapat mandat yaitu Mentri Luar Negeri. Juga tentang bahasa yang digunakan wajib menggunakan bahasa Indonesia, untuk beberapa hal khusus bisa saja bahasa Inggris, namun wajibnya adalah bahasa Indonesia.
Aulia Adnan mengatakan bahwa dia telah membuat analisa mengenai MoU Microsoft dan Pemerintah Indonesia, kesimpulan sementara dari segi hukum (sesuai core competencenya) lebih banyak mengarah ke MoU yang ilegal!
Dari dua hari ini bertemu dengan pak Sofyan Djalil dan pak KK, saya sendiri melihat bahwa pemicu berpikir keduanya cukup positif. Keduanya ingin memecahkan masalah bangsa ini, ingin mengangkat Indonesia dari keterpurukan, hanya mungkin strategi dan caranya sedikit berbeda. Pak Sofyan ingin cepat menurunkan piracy rate kita, supaya Indonesia segera terangkat dan tidak lagi masuk watchlist yang cukup berefek negatif ke industri dan perdagangan Internasional Indoesia. Sedangkan pak KK mencoba solusi yang lebih memiliki kebebasan dan kemandirian. Pak KK juga buktikan di KNRT yang dia pimpin bahwa migrasi ke opensource adalah sangat mungkin dilakukan. Yang pasti keduanya memiliki satu konsep sama yaitu: Be Legal!
Untuk foto-fotonya, sekali lagi nunggu setoran Om Wandi 😉