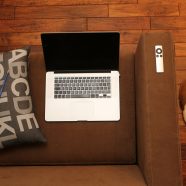 24 Apr

2016
Tags
Related Posts
Share This
6 Mitos Kesalahan Pengembangan Software
Menurut data statistik, tingkat kegagalan project software di dunia ini mencapai lebih dari 40%. Di Amerika, Standish Group mencatat kegagalan mencapai 42%, sedangkan General Accounting Office menemukan fakta bahwa kegagalan pengembangan software mencapai 53% (Dennis, 2012). Semakin besar ukuran dari software, semakin besar kemungkinan kegagalan dalam pengembangan dan penerapan. Ketika kita mencoba mengkritisi lingkungan di sekitar kita, kita akan menemukan fakta yang unik bahwa banyak penerapan software yang seperti dipaksakan ada. Software tersebut tidak membawa manfaat dan keuntungan apapun untuk kita, bahkan menyebabkan peningkatan biaya dan waktu.
Ketika KTP masih dibuat oleh kelurahan secara manual dengan mesin ketik, hanya perlu waktu 1 minggu untuk mengurusnya. Ketika komputerisasi KTP datang, bukannya tambah cepat, tapi ternyata perlu waktu 1 bulan untuk mengurusnya. Dan ketika datang sistem yang lebih canggih, alangkah terkejut ketika kita sadari bahwa e-KTP butuh waktu 1 tahun dari perekaman hingga sampai di tangan kita. Contoh lain bisa kita lihat bagaimana software yang kita terapkan di organisasi kita, bukannya tambah mempercepat pekerjaan kita, tapi justru membuat lambat pekerjaan kita. Padahal software tersebut dikembangkan dengan biaya yang sangat besar. Secara teori komputasi, ini menyalahi apa yang digariskan para founding fathers di dunia komputer bahwa komputer dan software datang untuk mempercepat dan membuat efisien pekerjaan manusia.
Ratusan ribu mahasiswa lulus sarjana komputer setiap tahun, dengan skripsi yang mirip-mirip. Di latar belakang masalah, selalu diuraikan bahwa cara yang ada sekarang masih "manual", sehingga perlu dibuatkan softwarenya. Software kemudian dikembangkan, tanpa melakukan analisis kelayakan, tanpa menghitung keuntungan secara tangible atau intangible, dan tanpa menghitung berapa Return on Investment (ROI) dan Break Event Point (BEP) yang dihasilkan dengan pengembangan software itu. Kemudian kita juga makin tersadar bahwa ratusan ribu software yang dihasilkan sarjana komputer kita berakhir di tumpukan buku perpustakaan, sangat sedikit sekali yang akhirnya bisa masuk ke dunia industri.
Saya berkesempatan menjadi reviewer dan mentor di beberapa program pendidikan atau inkubasi startup yang diselenggarakan oleh beberapa kementrian dan juga industri (perusahaan telekomunikasi atau bank). Saya akui bahwa banyak anak muda kita yang memiliki kemampuan programming dan coding, sayangnya banyak yang salah kaprah memahami bahwa untuk menjadi startup sukses, modalnya hanya coding. Padahal yang lebih penting lagi adalah kemampuan membaca kebutuhan pasar, kemampuan melakukan analisis kelayakan, baik ekonomi, teknis dan organisasi dari software yang akan kita kembangkan. Pengembang kita banyak yang mengerti "how to write a code", tapi gagal memahami "how to develop a software".
Banyak lagi mitos-mitos lain yang selama ini kita percayai bahwa itu benar, ternyata tidak sepenuhnya benar. Materi saya sajikan dalam bentuk slide tentang 6 Mitos KesalahanPengembangan Software. Materi ini sudah pernah saya presentasikan ketika saya menjadi reviewer dan mentor di program-program startup. Termasuk juga di beberapa seminar dan conference ketika saya menjadi keynote speaker. Download materi 6 Mitos KesalahanPengembangan Software atau klik gambar di bawah.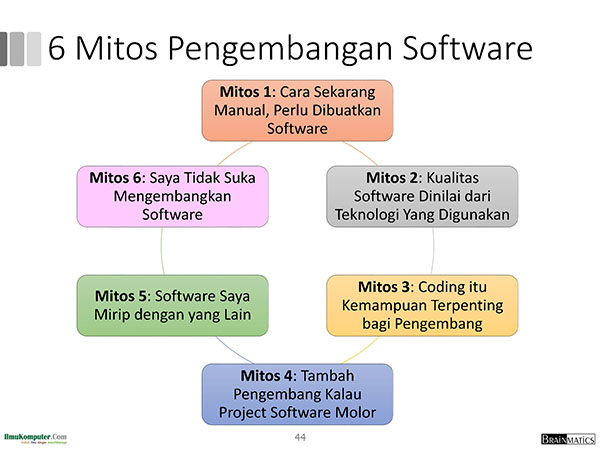 Mudah-mudahan materi ini dapat menjadi pegangan untuk adik-adik mahasiswa atau siapapun yang berencana bermain di dunia startup pengembangan software.
Tetap dalam perdjoeangan.