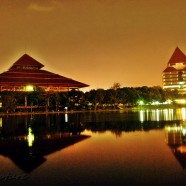 26 Jan

2007
Tags
Related Posts
Share This
Seminar eLearning dan Teleconference di UI

Rabu, 24 Januari 2007 saya diminta mengisi seminar tentang Prospek Telemedicine dan e-Learning di Indonesia, yang diselenggarakan Fakultas Kedokteran Universitas Indonesia (FKUI). Acaranya sendiri bukan di Salemba yang selama ini menjadi markas FKUI, tetapi di Pusat Studi Jepang, Depok. Yang menarik, seminar ini dibarengkan dengan conference tentang Flu Burung, APAN Manila. Jadi di sesi siang ada teleconference dengan tema: Bird Influenza: Cooperation in Asia beyond Fields and Geography. Sesi teleconference ini diikuti oleh 8 negara dengan pembicaranya dari masing-masing negara tersebut.
Manila Venue

National Hospital of Pediatrics (Hanoi): Nguyen Thanh Liem

Chulalongkorn University (Bangkok): Pornarong Chotiwan

Nagasaki Universitu (Nagasaki): Tetsu Yamashiro

Universitas Indonesia (Jakarta): Ali Sungkar dan Hadiarto Mangunnegoro

Peking University (Beijing): Jiang Gu

Australia National University (Canberra): Andrew Howard

Stanford University (USA): Young-Sung Lee
Kembali ke acara paginya, sesi pertama diisi dengan sambutan dari Dekan FKUI Dr Menaldi Rasmin, Rektor UI Prof Dr Usman Chatib Warsa, dan Heri Abdul Aziz (Depkominfo). Sesi kedua diisi 4 pembicara yang dimoderatori dr Aria Kekalih. Pembicara selain saya, ada pak Eric Tappan yang memperkenalkan tentang Teleconference dan Telemedicine, pak Elisa Lumbantoruan (Presdir HP Indonesia) berbicara tentang eLearning Framework, dan pak Irfan Setiaputra (Managing Director Cisco Indonesia) yang memberi pencerahan tentang Connected Classroom.
Materi saya sendiri, pertama berisi diskusi tentang terminologi dan definisi, karena ternyata banyak sekali confusing terms berhubungan dengan tema (elearning, online learning, distance learning, multimedia learning, dsb). Berikutnya tentang komponen dari eLearning termasuk delivery methodnya (Synchrounous dan Asynchrounous). Kemudian saya mencoba bahas tentang masalah yang ada di eLearning, dimana saya coba rangkumkan 4 hal: infrastruktur, konten, quality assurance, dan human factor. Implementasi eLearning berimplikasi ke transformasi dan adanya shift-paradigm dari eLearning konvensional. Paling tidak saya cermati perlu ada content shift-paradigm serta perubahan behavior belajar manusia. Dan yang pasti keduanya perlu didukung adanya infrastruktur dan quality assurance yang baik. Memang ini masalah pelik, disamping infrastruktur koneksi Internet dan jaringan di Indonesia tidak mendukung, juga belum ada yang membuat dan bertanggungjawab masalah jaminan kualitas dari penyelenggaraan eLearning.
Presentasi saya bisa didownload dari: romi-distancelearning-fkui-24januari2007.pdf